Mentale gezondheid onder jongeren bespreekbaar maken, daar zette Tessa zich samen met haar team voor in tijdens haar deelname aan Futureproof in Den Haag. In dit blog vertellen we je meer over haar ervaring met Futureproof en waar ze nu staat.
Van commercie naar maatschappelijk werk
Nadat Tessa een tijd als consultant in het commerciële vakgebied werkte, ontdekte ze dat ze liever iets maatschappelijks wilde doen. Ze nam haar tijd om zich te oriënteren en kwam uit bij Futureproof in Den Haag! Het uitgangspunt van ons programma sprak haar het meest aan: "Futureproof is een te gekke combinatie tussen het leren van theorie en het direct in de praktijk brengen waarbij je alle handvatten krijgt om een eigen onderneming of project te starten." Tijdens het programma werkte Tessa met tools zoals de Design Thinking methode, deed ze mee aan verschillende workshops zoals pitchen en Impact Business Model Canvas én kreeg ze individuele coaching. Hierdoor kon ze zowel aan haar ondernemende skills als aan haar persoonlijke ontwikkeling werken.
Prototypen en testen
Door de verschillende workshops en coaching gesprekken kwam Tessa samen met haar team op het idee van een snack met als doel het gesprek te starten over mentale gezondheid onder jongeren. Zonder taboes! Ze gaven hun snoepjes de naam 'Mental Munchies'. Met de kennis uit de Design Thinking trainingen testten ze hun prototype en met de resultaten daarvan konden ze hun snack doorontwikkelen. Tessa: "Soms moet je iets in de markt testen voordat je het kunt uitwerken. De drempel om te gaan netwerken met verschillende organisaties werd door Futureproof een stuk kleiner. Hierdoor stapte ik makkelijker naar een bedrijf toe. Jij mag jezelf laten zien en er echt voor gaan! Als je iets belangrijk vindt, ga het dan ook doen! Falen bestaat niet, er kan alleen een nieuwe les uit voortkomen."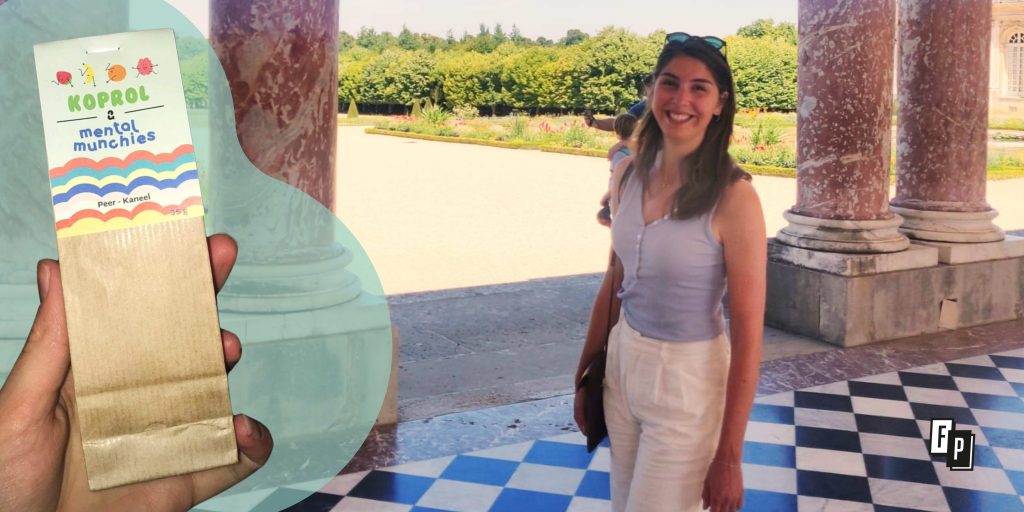 Weten wat je wil
Tessa geeft aan dat haar deelname er niet alleen voor zorgde dat ze zich meer zelfverzekerd voelde, maar ook bijdroeg aan haar zoektocht naar wat ze wilde gaan doen met haar carrière. Zo weet ze nu 100% zeker dat ze zich hard wil maken voor mentale gezondheid onder jongeren. Ook nu, na haar deelname aan Futureproof, maakt ze zich hard voor de mentale gezondheid van jongeren. Ze werkt op dit moment namelijk bij Studeren & Werken Op Maat. Dit is een stichting die jonge professionals met een fysieke of mentale arbeidsbeperking begeleidt en strijdt voor een inclusieve arbeidsmarkt.
Futureproof community
Wat Tessa nog steeds meeneemt van haar tijd bij Futureproof zijn haar leiderschap skills, dat het oké is om hulp te vragen en dat je als leider niet boven maar juist naast je collega's staat. Tessa: "Wat ik ook heel tof vond om te zien, was hoe wij als groep op persoonlijk vlak groeiden. De groepsdynamiek was goed en we werden erg betrokken bij elkaar. Iedereen hoorde erbij ongeacht wie, wat of waar. Dat wij elkaar zo veel gunden, vind ik nog steeds erg waardevol."
Wat Tessa aan anderen wil meegeven: "Zoek de verbinding op met anderen, op je werk, school of andere sociale omgevingen. Dan sta je zoveel sterker. Durf ook in het diepe te duiken om het programma aan te gaan! You've got this!"
Heeft Tessa's verhaal jou geïnspireerd en je interesse gewekt? Eind maart en begin april starten onze programma's weer in Den Haag, Groningen, Eindhoven, Nijmegen en Zwolle. Meer informatie of je aanmelden voor één van onze online info-uurtjes? Klik hier!