Jarmo won business coaching van PwC tijdens het Pitch Event van Futureproof Online: onze gratis online training sociaal en duurzaam ondernemen. In dit blog vertelt hij meer over zijn ervaring met de Innovatie Track. 
Futureproof Online alumnus Jarmo vertelt
Futureproof Online alumnus Jarmo koos voor de Innovatie Track en ging aan de slag voor impact onderneming Do More. Zij ontwikkelen een app die dient als persoonlijke herinneringsbox voor nabestaanden van een overleden dierbare. Het is een soort platform om het rouwproces en herinneringen met elkaar te delen, ook als je niet bij elkaar in de buurt bent. Do More was al bezig met een prototype van hun app, maar konden wel wat extra hulp gebruiken. Gelukkig was daar Jarmo! Hij deed een doelgroeponderzoek waarbij hij mensen vroeg wat ze wel en niet zouden willen met de app en of ze er überhaupt behoefte aan zouden hebben. Met deze input heeft hij verschillende slimme prototypes vormgegeven.
Hoe heb jij Futureproof Online ervaren?
"Mijn ervaring bij de Innovatie Track van Futureproof Online is dat het me elke week weer positieve energie en inspiratie gaf. Ik zat niet op een makkelijk punt in m'n leven en Futureproof herinnerde me juist aan mijn kwaliteiten en de waarde die ik kan bieden als startende sociale Crossmedia Designer."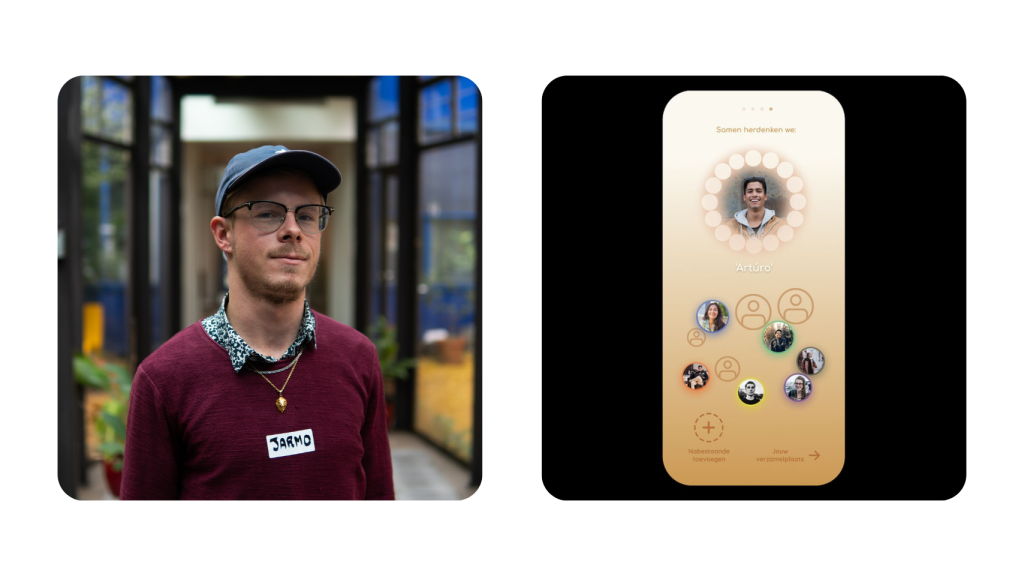 Wat heb je geleerd tijdens de Innovatie Track?
"Ik kwam er constructief achter dat statistisch onderzoek doen nog niet mijn sterkste kant is, maar dat ik juist wel goed ben in creatief brainstormen en visueel aantrekkelijke ontwerpen maken. Toch heb ik geleerd hoe ik diepte-interviews kan doen door een doelgroeponderzoek te doen voor impact ondernemer Do More. Dankzij de e-learning van Futureproof Online (met o.a. in het bedrijfsleven veelgevraagde werkwijzen zoals Design Thinking, Impact Business Model Canvas, Pitchen, Theory Of Change en de SDG's) én de persoonlijke aandacht en feedback van de coördinatoren, heb ik geleerd om de interviews te verwerken en zo al een eerste aanzet te doen tot een verbeterd prototype in Miro. Ik heb dit op eigen initiatief gedetailleerder vormgegeven in Figma."
Waar ben je trots op?
"Ik ben nog steeds trots dat ik na mijn gemotiveerde inzet één van de twee winnaars was tijdens de afsluitende pitchavond, Do More kan hun sociale project nu verder in de wereld zetten dankzij de gewonnen coaching vanuit PwC Nederland!"
Ook voor een sociale onderneming aan de slag, aan je persoonlijke ontwikkeling werken én onderdeel worden van dé community jonge impactmakers? Meld je aan of leer meer over Futureproof Online via deze link! Donderdag 25 mei start de Innovatie Track van Futurproof Online weer met deze keer het thema inclusiviteit.